We offer a high quality tennis camp, with top coaches and proven skills training. More importantly, tennis is our tool to bring special young people together, and teach lessons that they will use in tennis and in their lives.
Each day of camp, the teens enjoy three hours of tennis training under the guidance of caring and supportive professional coaches.
Through training and playing together, winning and losing, and positive reinforcement about hard work and commitment, our youth soar. They experience significantly increased feelings of self-esteem, positivity, and a strong belief that with hard work and commitment, they can realize their dreams.
For many of our campers, the end of camp tournament is the most exciting time. All of the teens gather around as they cheer each other on and support their new found friends while watching from the sidelines. The winners receive a trophy, but after this tournament, each camper feels like a winner.
We incorporate SEL into our regular tennis programs, just as we incorporate it into our other programs. After they play tennis, they reflect in their journal about how they reacted when something did not go their way, and how they can better deal with it and regulate themselves in the future. We also use the tennis court as a teaching moment to help each teen regulate their emotions.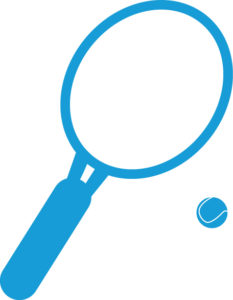 100% of campers reported that instruction improved their tennis skills
Tennis Training in Focus
Once the teens are all settled in, each child is separated by skill level. We maintain a 1:4 pro to student ratio to make sure that each teen feels special and is receiving the individualized attention they deserve.
The lessons are designed so that they develop strong tennis fundamentals. They go through many drills that focus on footwork, shot depth, transitioning from baseline to net, proper volleys, spin serves, and match strategy.